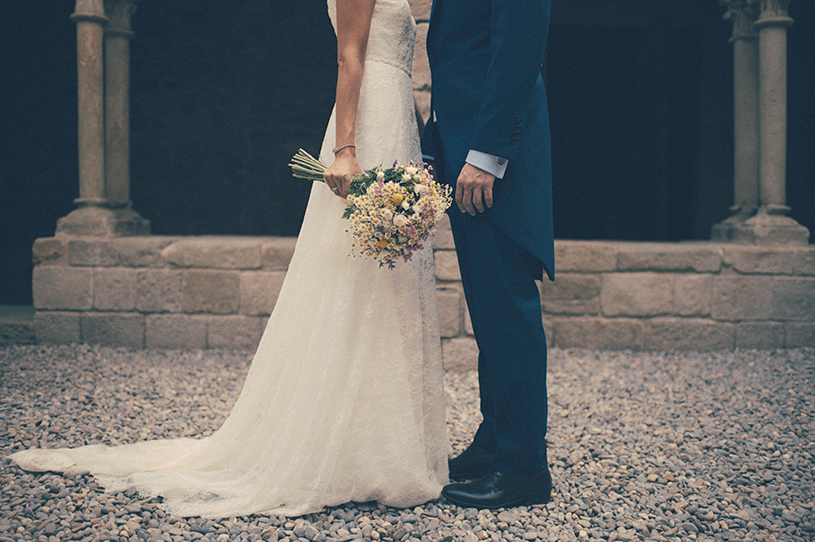 "I wanted a dress that expressed how I am". Cristina had it clear from the beginning. "When I knew B. was going with a morning coat, I realized that my wedding dress should be formal and romantic".
She spent months looking for the perfect design. "I tried at least 50 dresses! I liked all of them!", explained Cristina. "But none convinced me because I felt like I was wearing a mask, I couldn´t see me wearing them".
"Then, I came back to Jesús Peiró and told Maria, a woman with experience and good taste, the sketch I had in mind. She showed me a dress and, against all prognostications, I decided to try it on while my mother was waiting anxiously. We had a rule: I got dressed without looking me in the mirror, to see the dress together for the first time as soon as I left the fitting room. When my mother saw me with that elegant, simple and very romantic Peiró, she exclaimed: "It's you!". Then, I contemplated me in the mirror and I knew that at last! I found it. It had a detail that made me fall in love irreversibly: It was two dresses in one. When you took out the chantilly, you discovered a new party dress much lighter, perfect to dance.
Jesús Peiró team helped me to complete the look with a woolen jacket I still wear, and a jewel hand-made belt, which gave a special touch to the second dress. Without any doubt, my dream wore the acronyms JP".
Photos: Javier Arroyo.