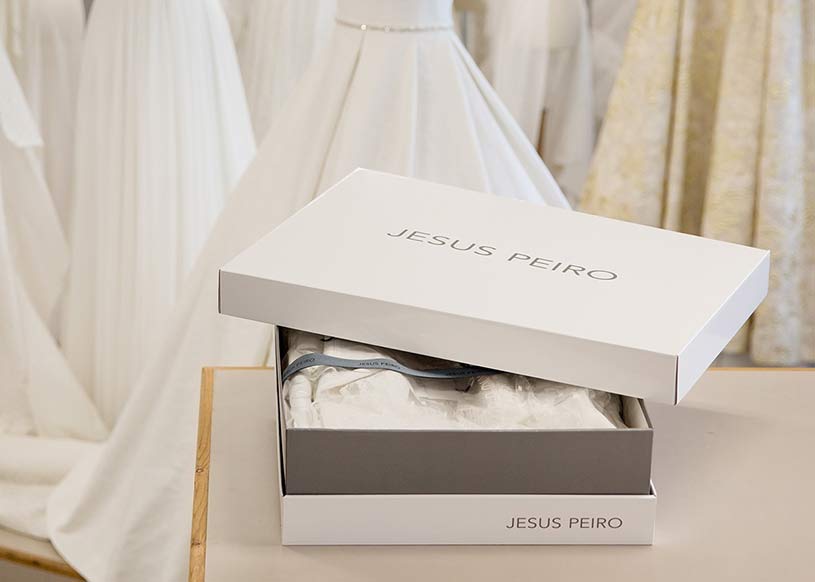 When a box of considerable size, which read "Jesús Peiró" with sober but imposing letters came home; it gave me a heart overturn.
I think when one receives her wedding dress, is one of those moments in your life that you don´t forget. And the culprit is this mix of emotions that keeps the box you´ve been waiting. Perhaps a lifetime.
I remember I wanted to open it in my room. First, I carefully untied the grey ribbon that surrounded my gown, then, I take off the silk paper which was awared of the jewel that was enveloped between its breakable skin. And there it was. At last, I had in my hands that piece that I had fantasized with so many nights between the sheets. My dress and I. Facing each other, we told everything immersed in an almost deafening silence. We both knew that, I was going to say "Yes, I do" unconditionally, embracing illusion, love; but also the sacrifice of marriage.
That box kept inside her passion, fear, hope, nerves, desire, dedication, willingness and temperance. Many difficult concepts to grasp in one fell swoop, but life would be responsible for teaching. That box marked the beginning of a stage that would be written by two. And I continue telling our story with him.
Photo: Elisabeth Serra.