"We'll always have this", told me my father facing a breathtaking landscape of Barcelona. "My cousin and he decided to take me to a spectacular viewpoint, minutes before I got married to calm my nerves. And they got it", explained Blanca still excited, remembering one of the most intimate moments of her wedding day.
It happened one memorable June 13 between lavender and lots of green. "We wanted a Mediterranean style celebration. We live in London, and that influenced our decision". "One of our best memories? Undoubtedly, the entrance to the dining room. My uncle Miquel had prepared a cannon, that launched upon us endless white papers to the beat of the song A Space Odyssey. What a surprise!", Blanca exclaimed reviving the adrenaline rush that still impresses her.
Like her wedding dress, that she contemplates when nostalgia catches her off guard. "As soon as I tried it, I knew it was my dress". And so, without further ado, and with the approval of her father, sisters and friend; Blanca said "Yes I do" to a sober design of Jesús Peiró made with lace and plumeti. "Thanks to JP team, I was able to feel myself wearing my wedding dress", says Blanca before confess she had seen this design in a blog long ago, and when she found it at Jesús Peiró, she still have the snapshot she made in her smartphone photo gallery. Coincidence or fate?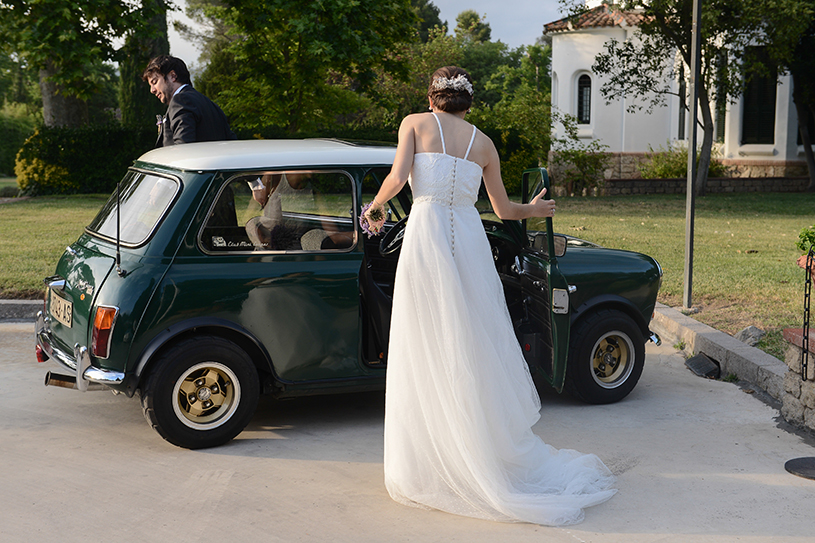 Photos: Marc Medina.