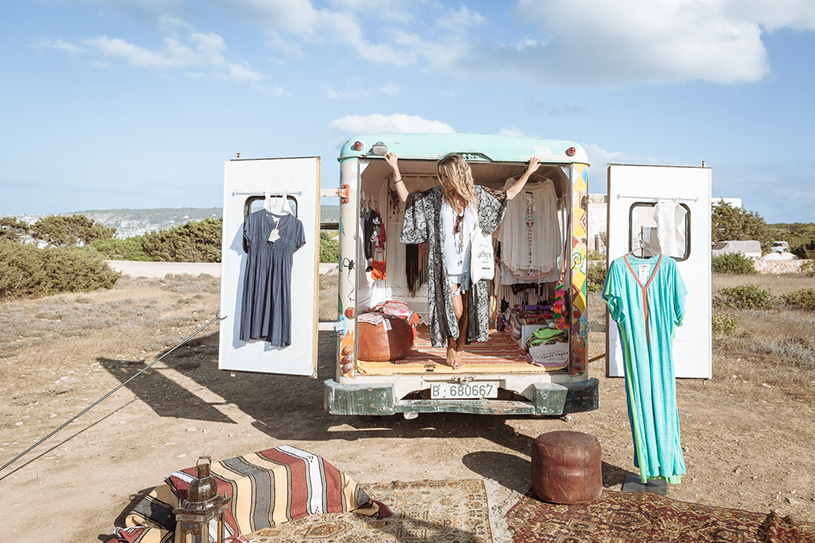 She created The Gypsy Truck after discovering a vehicle solding clothes in New York. "With a nomadic and hippie philosophy, I invented the first Fashion Truck in Spain", told me Natalia Puiggrós, the Communication Director of Communications by Le Mod agency, and founder of this revolutionary initiative.
In the old model Walk-Thru, from the disappeared British brand Commer, she sells exclusive pieces of carefully selected international brands, limited editions and designs that bet on friendly production environment.
Brands like Pitusa, Lebor Gabala, Mugunzo Sisters (created by Tatiana Santo Domingo and Dana Alikhani, daughter of Iranian businessman Hossein Alikhani), Free People and Somedays Lovin have already been uploaded to this truck that in the 70s traveled throughout Europe, leading its passengers to a lifestyle inspired by Californian hippie trends.
Natalia felt in love with Fomentera when she was 16, and she never had doubts about where to begin The Gypsy Truck trip for the first time in 2015. "I wanted to open a business related to fashion, but I did not want to follow its conventions". Said and done.
The Gypsy Truck today has become the temple of fashion experts. Here you will find kimonos, light dresses, ethnic accessories and authentic jewels that will change your wardrobe -and your life- irreversibly.