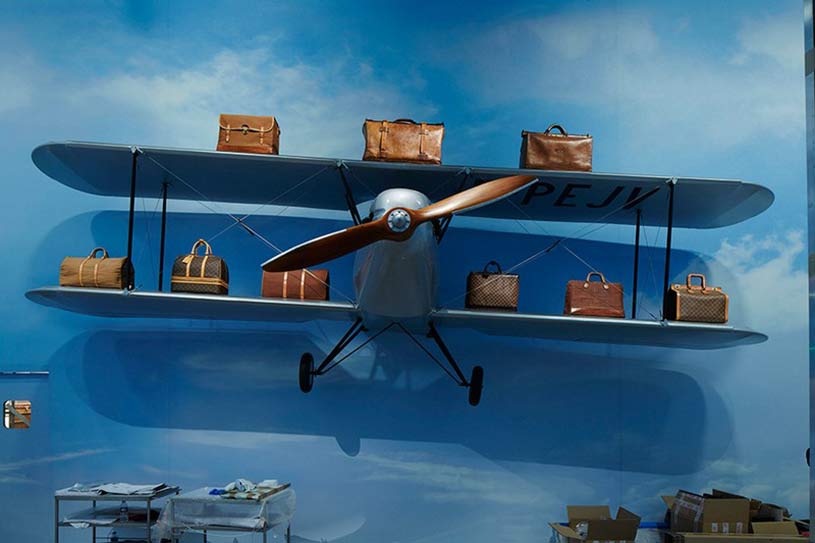 We travel with Louis Vuitton since 1845 until today, thanks to the exhibition "Volez, Voguez, Voyagez", hold these days at the Grand Palais in Paris until February 21st.The past, present and future of La Maison shake hands in an unprecedented display orchestrated by Olivier Saillard, director of the Palais Gaillera and curator of the exhibition.
The trip takes off with the iconic symbol of the brand: the trunk. Louis Vuitton began as a business of trunks, founded in 1854, without any pretension of becoming one of the greatest empires of luxury. So these are the first few lines written of a story that now takes 500 years! and promises to drag on over time, while people who value the "savoir faire" with French accent still exist.
Fourteen rooms of the imposing Grand Palais host this exhibition that mixes the primitive Damier, the iconic Monogram and Sonia Delaunay embroidered hats; in a deliberate contrast to the Damien Hirst butterflies painted in a trunk, and Elizabeth Taylor´s travel bag that prays a brief but powerful: "Mine!".
And there, on a makeshift desert sand, the most desired bags shine with intermittent flashes. Nicolas Ghesquière sign them for Louis Vuitton and symbolize the present of a house with a lot of history to tell.