"Designing is my therapy"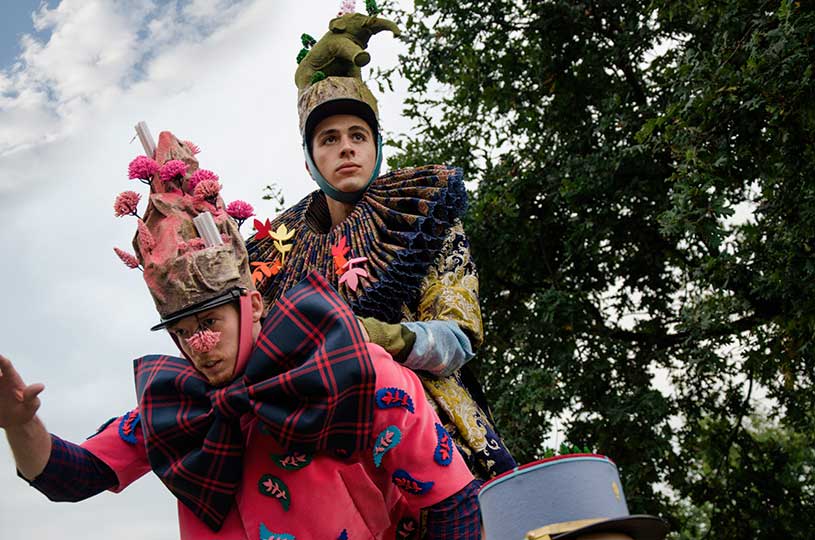 If you ask Sheila for her age, the answer is more than a number: "I have 29 years old and many dreams to fulfill before 30″. With this sentence Sheila Pazos surprises me, the winner of the Debut 2015 fashion show of ESDEMGA, Estudos Superiores en Deseño Téxtil e Moda de Galiza; the annual event in which Jesús Peiró collaborates with the sponsorship of the prize offered to the first two awards. The goal of both companies? Betting on new generations!
"I began creating series of painting-shirts and, then, I created very colorful ties. Soon paintings completely disappeared, and I decided to paint shoe soles and giants buttons that I made. That was my first incursion into the world of fashion".
This Graduated in Fine Arts took little notice of her value to fashion design very soon, and she decided to develop it at ESDEMGA thanks to a scholarship she received when she began working on her doctoral thesis. "I come from a humble family, and I tried to thank my parents all the effort they have made for my sister and me, taking the most advantage of my studies", tells my Sheila openly.
I discover a vital, restless and passionate girl; firm advocate of fashion as an art form. "I dedicate my efforts to create an art that people can wear, giving it greater visibility and function beyond the artistic beauty".
She took my attention quickly with one of her answers: "My work is a personal therapy. I really design clothes for me with a marked tendency to horror vacui". Faithful to her style, Artificial Paradises, the collection of the end of her career that has made her the winner of Debut 2015, was excessive and "was inspired by the book Invisible Cities, by Italo Calvino. From here, I decided to write my own chapters with reference to the contemporary tailoring of Walter Van Beirendonck and Thom Browne. Artificial Paradises is a collection for man, having a substantial effect on the pattern and tailoring, in which elements that break the proportion and design of the classic suit are introduced". Tells the girl of white sneakers who dreams of having a creative work "to be completely happy".