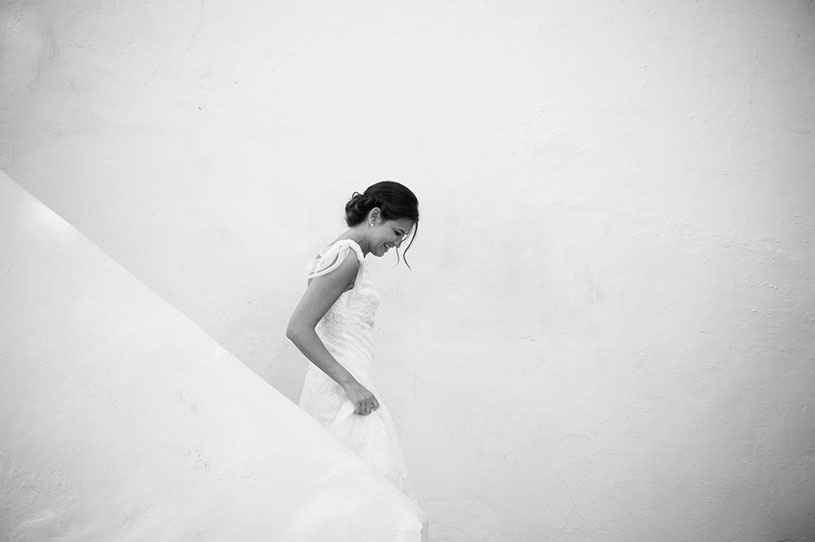 Without nerves and with a big smile. So Ana Nieto Barbadillo enjoyed her wedding, after nine years of courtship. "We got married last May in Sanlúcar de Barrameda, surrounded by family and friends who came from all over Spain and even America! I could not stop smiling during the celebration", told me Ana with sparkling eyes.
The only time she was defeated by nerves was seconds before going into the church. "I blocked. I had been carrying the bouquet in my left hand all the time, and when I went to get my father's arm, I did not know how to carry it in the right hand", explained anecdotally. After an emotional ceremony, Ana left the church victorious with her husband walking across "the most crooked sabers hallway I had seen in my life", she remembers while she was seeing her wedding dress hanging, smarmy, in a half-open closet.
"The choice of the dress was quick. I knew the brand and Jesús Peiró was the first boutique I visited. I went with an idea but I ended up trying everything!". After a fun fitting session, Ana felt in love with two designs, but in her second visit to the house, she felt in love with a dress from the new collection which was the winner. "I was captivated by its embroidery, lightweight fabric, the peak of the back and side ties that gave me a childish and innocent touch". Her friends surprised her with a brooch hair they bought also in Peiró; and Ana completed the look with wonderful earrings from her mother-in-law, and a rustic bouquet made by her mother. "The combination was unbeatable!", Ana told me excited by the intensity of memory, photo album in hand.
Our bride was unable to choose the images that illustrate this post ("I love all of them!"), and she allowed Jesús Peiró team to choose the best shots of the happiest day of her life. Thanks Ana.
Photos: Molina+Royo