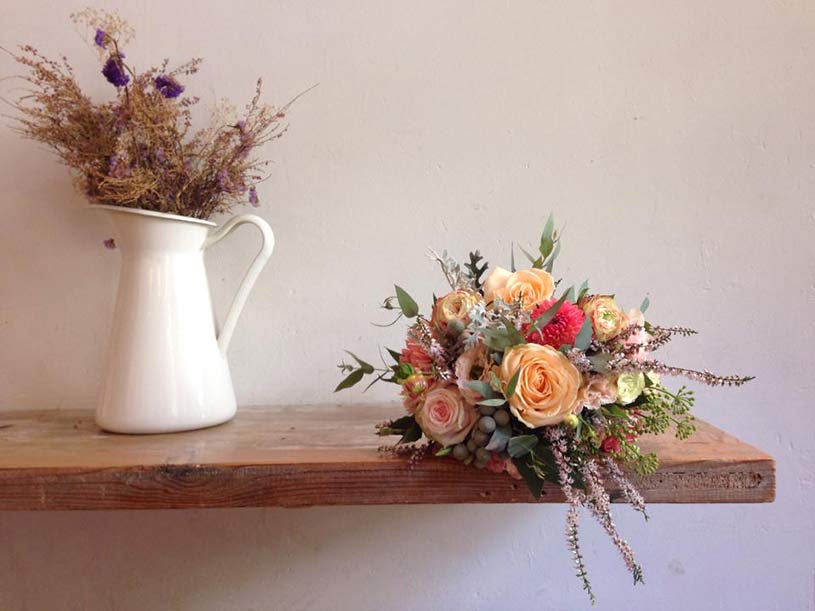 Provençal landscapes inspired great artists such as Picasso, Van Gogh and Scott Fitzgerald; and also have done it with a couple passionate with nature, who now runs one of the most charming floral studies of Barcelona.
Its name? Millo de Riboti, and you´ll never forget the smell of its lavender; the same they find at the French landscapes where they love to go, when they close the doors of their flirtatious flower shop. "I grew up surrounded by flowers of Provence. In my house, there was always a vase of wild flowers picked daily from the field", Claude, one of the owners, tells me. Millo de Riboti history began in 2011, although they worked before in distribution of lavender. "One day, after looking for work here and there during the crisis, we decided to open our own space with a lot of enthusiasm, encouraged by neighbors and friends".
Welcome to this floral study, that uses natural elements and colors to give life to genuine and wild plant compositions. "We choose our raw materials taking into account their quality, freshness, originality and naturalness". Four characteristics also describe the designs of Jesús Peiró, a pioneer in making vital and unique wedding dresses without artifice, that bring the stamp of their clients. "At Millo de Riboti happens the same: all our bouquets have a touch of the acquirer", explains me Claude.
Both houses put much emphasis on details that make unique creations with great care and personality. They know their strong lies in the authenticity of their hands; the same that give life to bouquets and gowns that express very intimate feelings. "Before designing a wedding bouquet, we want to see a photograph of the dress", explains Claude. Compare the work of Millo de Riboti and Jesús Peiró is inevitable because both strive to give life to the dream of a bride. "Our day to day is to make dresses and bouquets with soul", Merche and Claude say in unison.
Ambas casas ponen mucho énfasis en los detalles que hacen únicas sus creaciones con mucho mimo y personalidad. Saben que su fuerte radica en la autenticidad de sus manos; las mismas que dan vida a ramos y trajes que expresan sentimientos muy íntimos. "Antes de idear el ramo de una novia, le pedimos una fotografía de su vestido", cuenta Claude.
Comparar el trabajo de Millo de Riboti y Jesús Peiró es inevitable, porque ambos se afanan en dar vida al sueño de una novia. "Nuestro día a día consiste en elaborar ramos y confeccionar vestidos con alma", afirman al unísono Merche y Claude.