Between emotion and nostalgia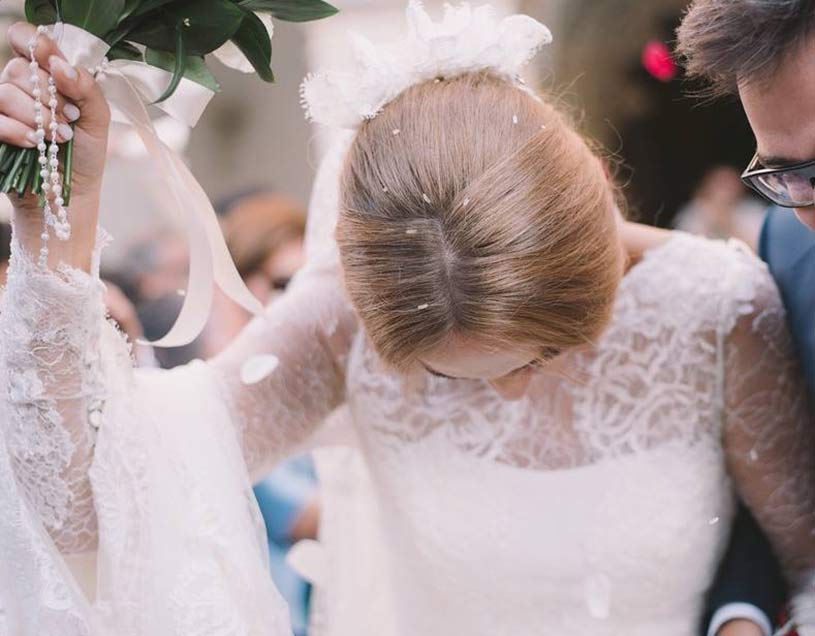 "It was hard to keep again my Jesús Peiró in the box", told me Ana, a client of the brand, after explaining me her wedding with all details. Her story began at the University of Coimbra (Portugal), hometown of the bride. "I met Rui there".
Six years after their love at first sight, the couple decided to get married at the imposing Palace of São Marcos, a former residence of the Portuguese monarchy, which now belongs to the university where they met. "I had clear from the beginning that I wanted to get married there, and it happes the same with the dress. I felt in love with a Jesús Peiró romantic design made with a superb chantilly. The veil, also from the Spanish house, was made with plumeti and embroidery. I had never seen one like it".
Ana told me that when she had her wedding dress at home, ten months before her wedding, she decided she wanted to wear long sleeves. Said and done. Jesús Peiró team did its "homework" in its workshop, in Barcelona. "I will never forget the moment I opened the box, and saw my gown for the first time… It was even more beautiful than I had imagined!".
September 26th sunrised with an overwhelming sun. "We enjoyed the big day happy and relaxed with friends and family" in a traditional, sober and very emotional wedding. "If it were possible, I would marry thousand times more", Ana exclaims between emotion and nostalgia.